Product Description
UL/FM/CE Fire-Protection Ductile Iron Grooved Pipe Fitting Flexible Water Pipe Coupling
Ductile iron grooved pipe fittings and couplings (FM and UL approved) mainly including 2 kinds of grooved products: (1) the pipe fittings function on connecting and sealing such as rigid coupling, flexible coupling, mechanical tee and grooved flange, (2) the pipe fittings function on connecting and transition such as bend, tee, cross, reducer.
Specifications
 
Name
Rigid coupling, Flexible coupling, 90° Elbow, 45° Elbow, 22.5° Elbow, 11.25° Elbow, Split Flange, Adaptor Flange, Cap
Tee, Reducing Tee(Grooved/Threaded), Mechnical Tee(Grooved/Threaded), U-bolted Mechnical Tee
Cross, Reducing Cross(Grooved/Threaded), Mechnical Cross(Grooved/Threaded)
Reducer(Grooved/Threaded), Grooved Eccentric Reducer
H.S. CODE
735710000
Technology
Casting
Connections
Grooved-Thread End, Grooved End
Pressure Rate
300PSI / 2.07MPa
Size
1" – 12"
Pipe O.D.
33.7MM – 323.9MM
Surface Finish
Epoxy Powder,Painting,Galvanization,Dacromet (in Red/Orange/Blue/White Color)
Design Standard
American Standard
ANSI/ASTM
European Standard
EN
British Standard
BS
Germany Standard
DIN
Japanese Standard
JIS
ISO Standard
ISO
Thread Standard
ASME B.1.20.1 / EN15716 / DIN2999 / ISO7-1 / ISO228 / IS554 / BS EN15716 / BS 21.173
Material Standard
Ductile Iron confirms to ASTM A-536 Gr65-45-12,EN1563,JIS G5502,QT450-12
Gasket Material
EPDM,NBR or Silicon Rubber
Bolts & Nuts
ISO 898-1class 8.8
Flanges Standard
PN series or Class series
Packages
Plywood Cases or Plywood Pallets or Boxes
Application
Fire Fighting System,Petrochemical & Gas Industry,Chemical,Machinery,Electric Power,Construction Water Works,Valve Industry,etc.
Advantages
High Quality + Ready Stock + Faster Delivery + Customized
Brand
LMP
Certificate
ISO9001,API,CE,UL/FM
Company Profile
 
We are a leading manufacturer of pipe fittings and valves establised in 1996
1.  We have over 20 years experience in exporting pipeline products.
2.  5 factories,complete 100+ projects every year.
3.  Your 1 more good choice for better customer service.
 
Factory and Packing
Other product

FAQ
Q1:What certificate do you have?
A: We have ISO 9001, CE certificate.
Q2. Can I get free samples?
A: Yes, The free samples can be offered for free.
Q3. Can I have my own Logo on the product?
A: Yes, Simple logo design is available based on not small order quantity.
Q4: Can I have my own customized product?
A: Yes, your customized requirements for color, size, mark, etc.
Q5: Can you produce the products according to my own drawing?
A: Yes, we can produce the products according to your drawing.
Q6: How long is your delivery time?
A: Generally it is about 30-45days depends on the order quantity.
Q7:What's your product range?
A:Forged Pipe Fitting,Butt welding Pipe Fitting,Pipe Clamps,Ductile Iron Groove Pipe Fitting,OEM Parts,Valves
Certification

Contact
HangZhou CZPT Industrial Co., Ltd.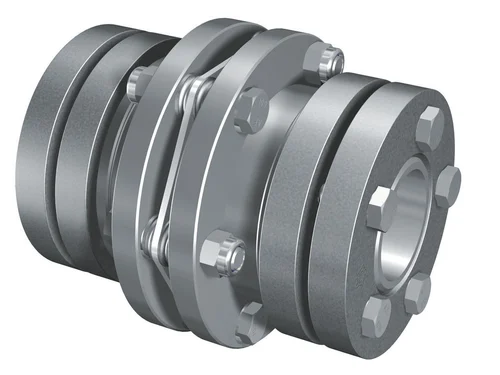 How does a flexible coupling handle electrical insulation between shafts?
Flexible couplings are typically not designed to provide electrical insulation between shafts. In most cases, flexible couplings are used solely for the purpose of transmitting mechanical power from one shaft to another while accommodating misalignment and absorbing shocks and vibrations. They do not offer any electrical isolation or insulation properties.
When electrical insulation is required between two rotating shafts in a system, additional components or specialized couplings are used. For applications where electrical isolation is necessary, insulated couplings or special insulation components can be employed. These types of couplings feature insulating materials, coatings, or designs that prevent electrical current from flowing between the connected shafts.
Insulated couplings can be beneficial in certain applications, such as electric motor drives or systems involving sensitive electronics. They help prevent stray currents, ground loops, and electrical interference that could potentially damage equipment or affect the accuracy of electronic signals. However, it is important to note that not all flexible couplings provide this electrical insulation capability, and users should carefully select couplings that meet the specific electrical isolation requirements of their application.
Summary: Flexible couplings, as standard mechanical components, do not inherently provide electrical insulation between shafts. They are primarily used for mechanical power transmission and misalignment compensation. If electrical insulation is needed between rotating shafts, insulated couplings or specialized components with insulating properties should be chosen to meet the specific requirements of the application.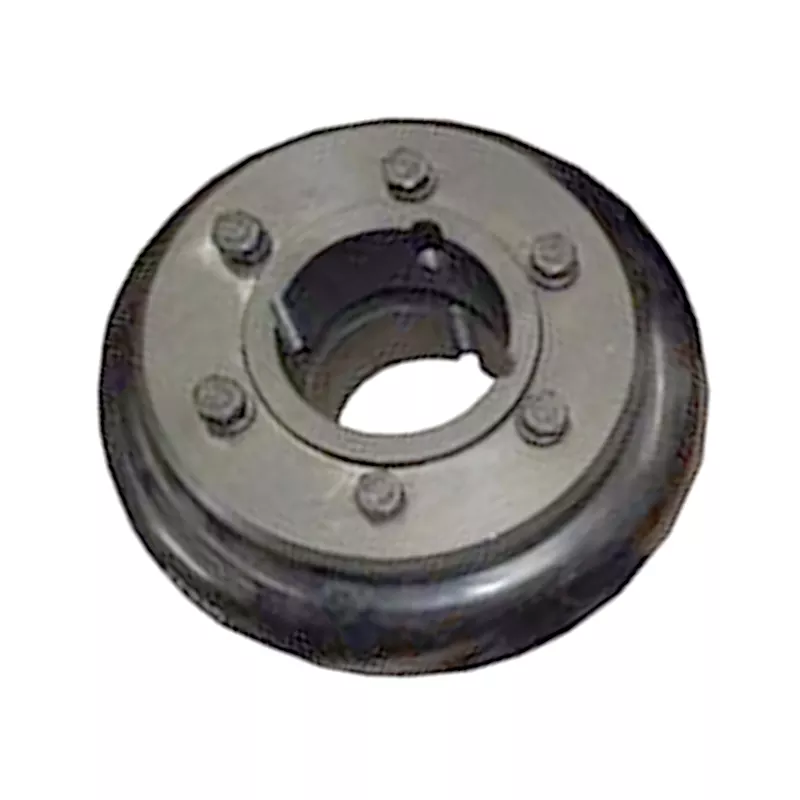 Can flexible couplings be used in high-temperature environments, such as furnaces and kilns?
Flexible couplings can be used in high-temperature environments, such as furnaces and kilns, but the selection of the appropriate coupling is crucial to ensure reliable performance and longevity under these extreme conditions. Here are some key considerations:
Material Selection: The choice of materials is critical when using flexible couplings in high-temperature applications. Look for couplings made from heat-resistant materials that can withstand the elevated temperatures without experiencing significant degradation. Common materials used for high-temperature couplings include stainless steel, high-temperature alloys, and certain types of elastomers designed for heat resistance.
Lubrication: High temperatures can cause lubricants to break down or evaporate more quickly. Some flexible couplings may require specialized high-temperature lubricants to ensure smooth operation and reduce wear at elevated temperatures. Check the manufacturer's recommendations for lubrication in high-temperature environments.
Thermal Expansion: In high-temperature applications, the equipment and shafts may experience thermal expansion, leading to misalignment. Flexible couplings with higher misalignment capabilities may be necessary to accommodate these thermal effects and prevent additional stress on the system.
Torsional Stiffness: Consider the required torsional stiffness for the specific application. In high-temperature environments, couplings may experience changes in stiffness due to temperature variations. It is essential to choose a coupling with appropriate torsional characteristics for the intended operating temperature range.
Application Specifics: Evaluate the specific operating conditions of the furnace or kiln, including the maximum and fluctuating temperatures, vibration levels, and potential exposure to chemicals or other harsh elements. Choose a coupling that can withstand these conditions without compromising performance or safety.
Coupling Type: Different types of flexible couplings offer varying degrees of heat resistance and performance capabilities. For example, certain types of disc couplings or metal bellows couplings are more suitable for high-temperature environments due to their robust construction and resistance to heat.
Regular Maintenance: In high-temperature applications, couplings may be subject to more stress and wear. Regular inspection and maintenance are essential to monitor the coupling's condition, lubrication, and alignment to ensure it continues to function optimally in the challenging environment.
Overall, flexible couplings can be utilized in high-temperature environments, but it is vital to choose a coupling specifically designed and rated for these conditions. Working closely with coupling manufacturers and considering the specific demands of the application will help ensure that the selected coupling can handle the challenges posed by furnaces, kilns, and other high-temperature equipment, providing reliable power transmission and contributing to the overall efficiency and safety of the system.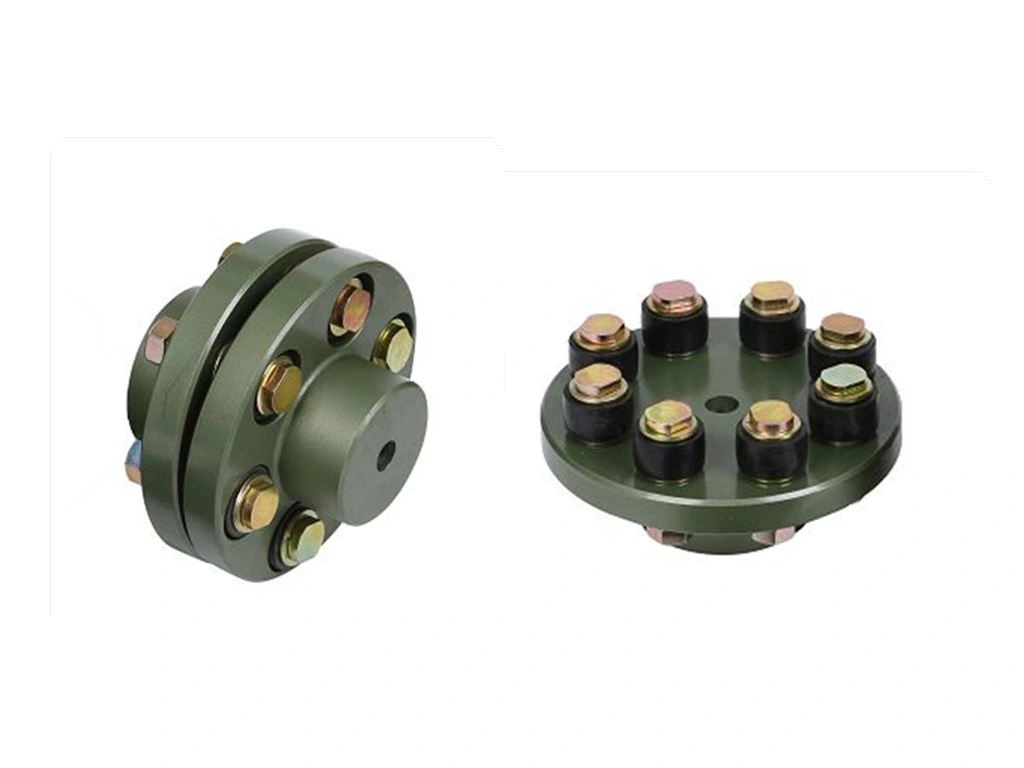 Can flexible couplings handle misalignment between shafts?
Yes, flexible couplings are specifically designed to handle misalignment between shafts in rotating machinery and mechanical systems. Misalignment can occur due to various factors, including installation errors, thermal expansion, manufacturing tolerances, or shaft deflection during operation.
Flexible couplings offer the ability to compensate for different types of misalignment, including:
Angular Misalignment: When the shafts are not collinear and have an angular offset, flexible couplings can accommodate this misalignment by flexing or twisting, allowing the two shafts to remain connected while transmitting torque smoothly.
Parallel Misalignment: Parallel misalignment occurs when the two shafts are not perfectly aligned along their axes. Flexible couplings can adjust to this misalignment, ensuring that the shafts remain connected and capable of transmitting power efficiently.
Axial Misalignment: Axial misalignment, also known as end float or axial displacement, refers to the relative axial movement of the two shafts. Some flexible coupling designs can accommodate axial misalignment, allowing for slight axial movements without disengaging the coupling.
The ability of flexible couplings to handle misalignment is essential in preventing premature wear and failure of the connected equipment. By compensating for misalignment, flexible couplings reduce the stress on the shafts, bearings, and seals, extending the service life of these components and improving overall system reliability.
It is crucial to select the appropriate type of flexible coupling based on the specific misalignment requirements of the application. Different coupling designs offer varying degrees of misalignment compensation, and the choice depends on factors such as the magnitude and type of misalignment, the torque requirements, and the operating environment.
In summary, flexible couplings play a vital role in handling misalignment between shafts, ensuring efficient power transmission and protecting mechanical systems from the adverse effects of misalignment. Their ability to accommodate misalignment makes them indispensable components in various industrial, automotive, aerospace, and marine applications.



editor by CX 2023-08-02